Grasp China Opportunities to Win the World Market – Global Dealer Summit Reveals International Look of SANY
2019-10-30 14:00:43
By Admin
On October 29, SANY Global Dealers Summit themed on "breakthrough, growth and win-win", was held in Changsha. More than 400 representatives of SANY dealers from nearly 100 countries and regions, such as the United States, Germany, France, India, Kuwait, Thailand, Indonesia, etc., attended the Summit to have "face-to-face talk with SANY senior management, discussing overseas marketing strategies for the purpose of win-win development. During the Summit, SANY granted awards to 24 excellent dealers, thus kicking off a new chapter in its international development. The Summit was also attended by Xiang Wenbo, Director of SANY Group and President of SANY Heavy Industry, Liang Linhe, Director of SANY Group and Chairman of SANY Truck, Yu Hongfu, Director of SANY Group and Chairman of SANY Heavy Machinery, and Zhou Wanchun, Director of SANY Heavy Industry, International Headquarters, etc. 
1. Pursue new breakthroughs! SANY intends to become the leading brand in all countries in the world
The Summit this year was attended by more than 400 dealers from nearly 100 countries and regions. The Summit not only has the largest number of participants, highest level and longest duration among all the sessions, but also the largest high-end business activity in the industry in recent years.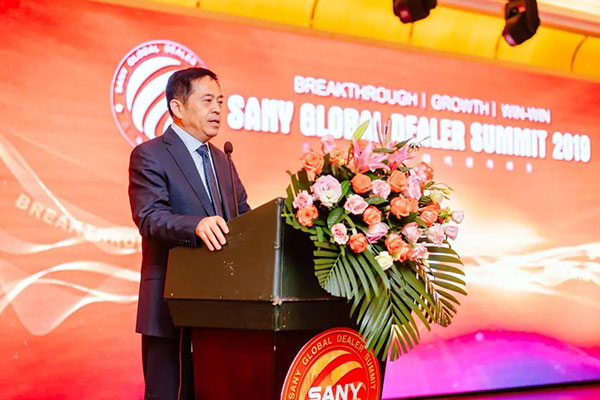 Mr. Xiang Wenbo made a keynote speech in the main venue of the Summit. First of all, Mr. Xiang Wenbo, on behalf of the Board of Directors of SANY Group, extended a warm welcome to all participants who have travelled a long way, and expressed heartfelt thanks for the support and trust given to SANY over the years. Xiang Wenbo pointed out that over the years, SANY dealers across the world have made outstanding contributions for SANY to become a leading company in the Belt & Road Initiative. Through concerted efforts, SANY has created the best business performance in history and will definitely surpass RMB 100 billion in total sales. As the brand's overseas influence keeps expanding, SANY has opened a new chapter of its international business. Xiang Wenbo said that international development is the core strategy of SANY, which will unswervingly make international efforts to become a world-class brand. He hoped that SANY's overseas dealers can cherish the opportunity of working with SANY while paying more emphasis on talents, services and integrity, and taking more positive actions. "China's construction machinery industry is a globally competitive industry. I hope that in the future, all projects in the world will use Chinese construction equipment, most of which are SANY products."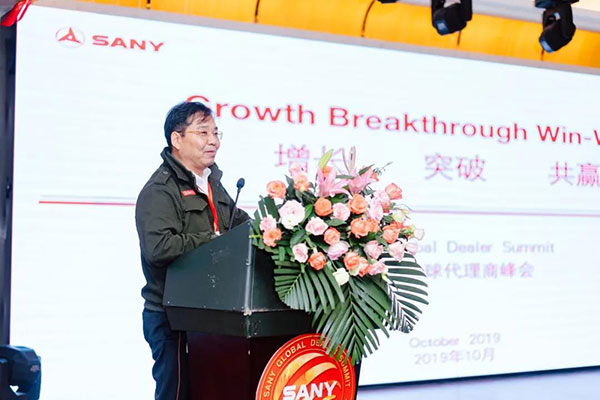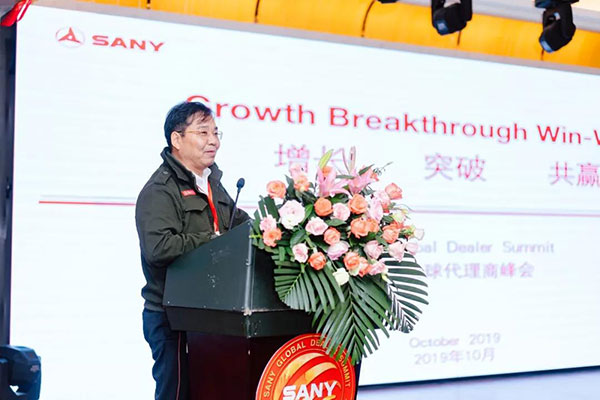 Zhou Wanchun introduced SANY's international development strategic plan. According to the plan, SANY Group will focus on key markets to make breakthroughs, develop new products and channels, improve the level of digitalization and service, and strive to build SANY into a world-class leading enterprise in five years.
Zhou Wanchun said that SANY will become the first brand in all countries, which is the cause of SANY and the common success of all people involved. He wished that all share SANY brand and create brilliance together.
On the afternoon of that day, in the sub-venues of international operation planning organized by the pumping, heavy machinery, heavy crane and port machinery business divisions, the core personnel of departments and overseas partners also made in-depth discussions on product R&D, market strategy, and channel improvement, etc. The dealers were deeply touched by the warm speeches and hot discussions. They all believed the Summit enhanced mutual trust and made them more confident in the orientation of SANY's international development.
2. Growing continuously, SANY CAGR reached 20% in the past three years
SANY has made numerous achievements in international development in 2019. During the Summit, the dealers felt greatly encouraged by SANY's exceptional development achievements and the grand blueprint for the future.
Thanks to the continuous improvement of brand cognition and product competitiveness, SANY made RMB seven billion revenues in the first half of this year in the international market, rising by 15% YoY; it is expected to make more than USD 2.5 billion sales revenues in the whole year, thus climbing to a new level.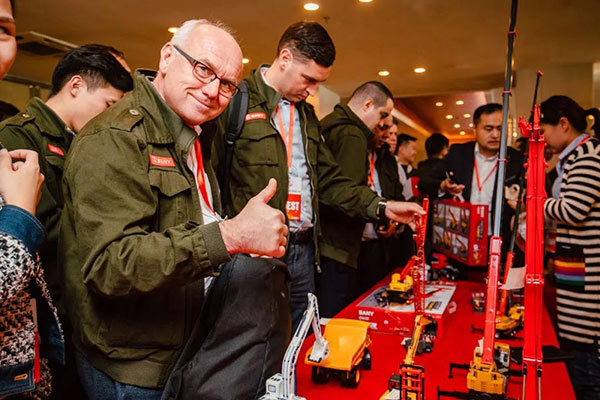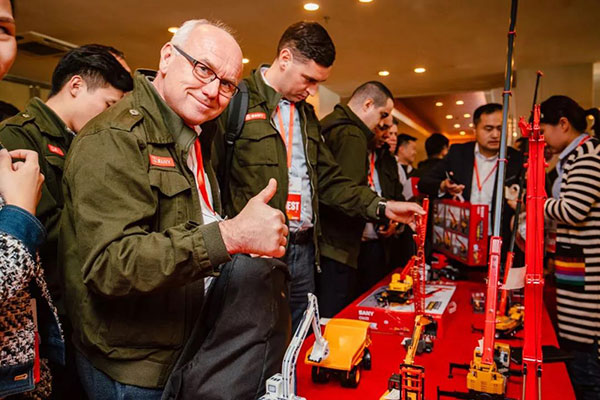 Statistics show that in the past three years, SANY overseas CAGR has reached 20%, whose annual profit growth has been standing at more than 30%. Its sales volume has exceeded RMB ten billion for six consecutive years. It has achieved the first export share in nearly 30 major countries. SANY not only ranks No.1 in the export scale and growth rate. Even more, SANY's per capita productivity and profit rate have reached the leading level in the world. It is worth noting that in 2019, SANY has maintained rapid growth in high-market markets in USA, Europe, Australia and Russia while consolidating its market position in India, Southeast Asia, Africa and other traditional core country markets. Data reveal that from January to September this year, SANY India made nearly RMB 1.5 billion sales, an increase of about 20% YoY. Its products are exported to Africa, the Middle East and other regions in the world. The"India strategy" is making remarkable results. SANY Indonesia sales approached RMB 1.8 billion, growing by 25% YoY. At present, there are over 500 SANY machines working in Qingshan Industrial Park, Jakarta-Bandung high speed railway and Virtue Dragon nickel mine among others. 
In the United States, SANY has made sales of nearly RMB 800 million, an increase of 84% YoY. Besides, it has made great progress in localization and product adaptability. SANY Europe realized an increase of more than 50%. In BAUMA this year in Germany, SANY launched 13 all-new excavators. In addition, SANY sales in Australia and Russia have risen by 67% and 100% respectively this year. At present, SANY's concrete machinery ranks the first in the world. The sales of SANY mining machinery are expected to top the world. Besides, SANY also takes the leading place in the industry in exporting piling machinery, truck-mounted hoisting machinery and port machinery, etc. In the future, SANY will increase input in its international development, expand the proportion of international sales, and build a leading enterprise in the Belt & Road Initiative. 
3. Building win-win situation, SANY's overseas partners tell stories of success
SANY's achievements are attributed to the strong support from all dealers and clients. As SANY accelerates its international development, its overseas dealer system has also ushered in rapid development. Their win-win cooperation has reached an unprecedented height. During the Summit, representatives of dealers also took the stage to share their experience in conducting win-win cooperation with SANY. The dealers believe that in recent years, SANY has considerably improved the international competitiveness of its brand. SANY Group is providing deeper and more efficient assistance to dealers, and making quicker response to the market. By organizing a large number of overseas marketing activities and inviting key customers to visit China, SANY Group helps them develop their business, truly fulfilling the concept of "win-win".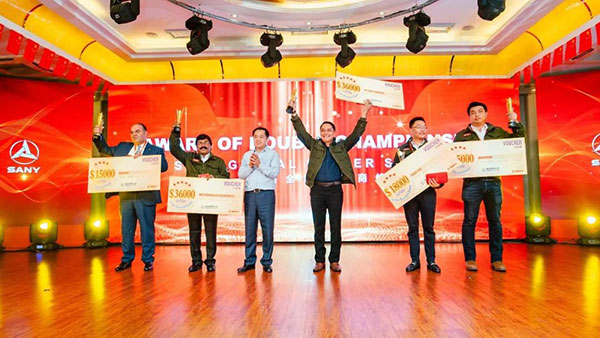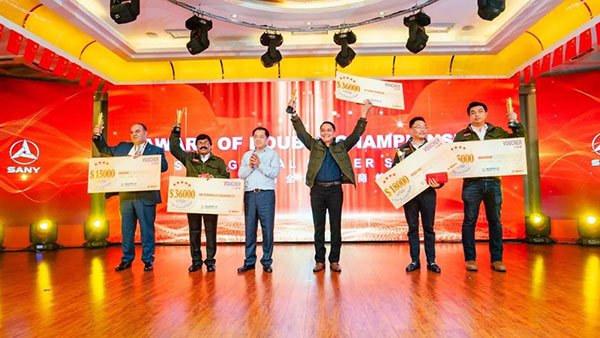 usanto Wijaya, Chairman of PT. GAJAH UNGGUL in Indonesia, said that the company became a dealer of SANY in 2018. It spent one year achieving sales of RMB 60 million, thus firmly taking 65% of the market share in its dealer territory in Indonesia. Mr. Tang, General Manager of SANY dealer in Cambodia, said the eight- year friendship between SANY and his company has resulted in unprecedented development of the company. In 2019, with the support of SANY, his company achieved sales of nearly RMB 40 million, tripled YoY. His company is the fastest-growing company among its competitors in Cambodia. At the dinner, SANY gave the 2018 Excellent Marketing Award, Excellent Service Award, Double Excellent Award and the Double Championship Award for the Year to 24 best-performing dealers.
It is reported that SANYs established localized distribution system in more than 100 countries around the world. It now has more than 300 overseas premium dealers, the most in the industry. The perfect dealer system has brought new vitality and vigor to SANY's international development.  All friends of SANY, both old and new, share the same dream. They will make SANY equipment spread all over the world and help SANY brand enjoy great fame in the world. Xiang Wenbo firmly believes that with the concerted efforts of dealers, SANY brand will be more famous. SANY will also provide the world with higher quality products, better and faster service, and create more values for everyone.