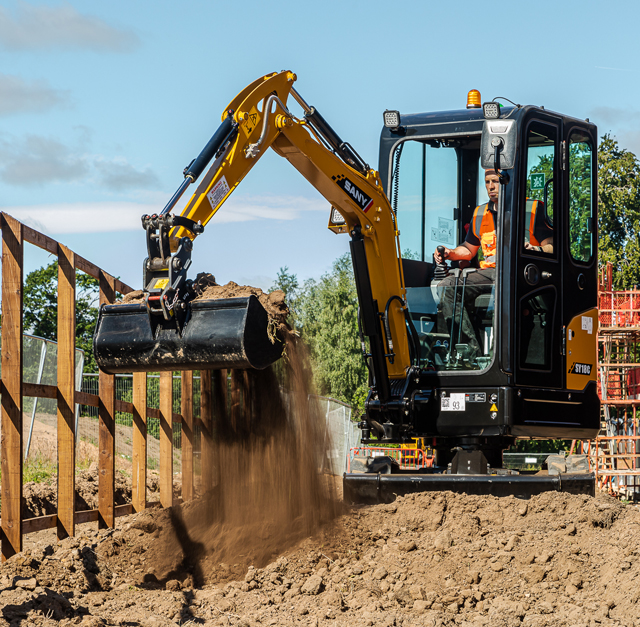 WHY SANY
VALUE

Return on investment is key. Our machines are loaded with the latest technologies to help reduce costs and increase productivity.

INDUSTRY LEADING WARRANTY

Our machines are built to last but for complete peace of mind all SANY equipment is backed by the best warranty in the industry.

WORLD RENOWNED COMPONENTS

SANY pride themselves on making the most reliable products in the industry and only choose the best materials from world leading manufacturers.

LOCAL SUPPORT

With a nationwide network of experienced dealer partners, as well as support direct from the factory, SANY UK & Ireland have the complete support solution.
ABOUT SANY

SANY Group started in 1989 as a small welding supply company founded by four young men who wanted to offer better products to the world. Over the last three decades, SANY Group has grown and evolved into a global brand with a sales turnover of $21 billion. With three listed companies and a presence in 140 countries around the world, including global R&D and manufacturing facilities in India, Brazil, Germany and the USA, SANY's powerful machines are driving construction projects across the globe. SANY UK & Ireland is the latest addition to SANY's global network of companies.
Investing 5 - 7% of annual sales revenue in Research & Development

Granted an industry-topping 6,000 world-wide patents.

Winner of the National Prize for Progress, Science and Technology.

Winner of State Technological Innovation Award, the highest honor in China's construction sector
TRUSTED ALL OVER THE WORLD
SANY is one of the largest construction machinery manufacturers in the world.
MANUFACTURING BASES

REGIONAL HEADQUARTERS

SUPPLIERS

DEALERS

SANY America

SANY Brazil

SANY Europe

SANY India

SANY Group Headquarter
SANY Latin-America

SANY Northern Africa

SANY Western Africa

SANY Central Africa

SANY Southern Africa

SANY Russia

SANY Central Asia

SANY Kuwait

SANY Saudi Arabia

SANY Eastern Africa

SANY Southeastern Asia

SANY Philippines

SANY Indonesia

SANY Australia

SANY UK