White Skip Hire clock up over 16,000hrs with two SANY SY215C's
White Skip Hire of Dagenham has been in operation now since 2015, when it first hired in a civil engineering spec Sany SY215C, 20-tonne excavator, adding another unit 6 months later. At its expanding facility, the business performs both manual and mechanical sorting operations, with some shredding and screening of relevant materials that are commonly used to create Refuse Derived Fuel products.
Processing over a hundred skips of waste a day, as well as HGV loads from larger construction clients, White's has also recently taken on an old woodyard to expand its operations. It's a bit of a success story that has been through its own challenges in the past, with a fire destroying some of its sorting capacity a few years ago. But for Director, Neil Richardson, the secret of his success has been to hire great operators and his fitter. Both of which have between them managed to keep its fleet of equipment working incredibly hard.
Whereas the other equipment used on site has been specified for waste handling applications, the two SANY SY215C machines are standard units, that are specified for civil engineering projects. The SY215C's onsite are both tier four interim units, with an operating weight of 21,750kg and are powered by an Isuzu 4HK T4 engine with a rated power of 128/2000kW/rpm. The latest tier 4 final version of this model has an operating weight of 23,550kg with a rated power of 125/1900kW/rpm coming from the latest Cummins QSB6.7-C164 engine.
The first of the two SANY SY215C's which was also the first unit in the UK, was provided by H&D Plant Hire, after the company had completed a local civil engineering job that it was purchased for. It was originally only going to be hired for six months, whilst Neil looked at other equipment to bring into the site.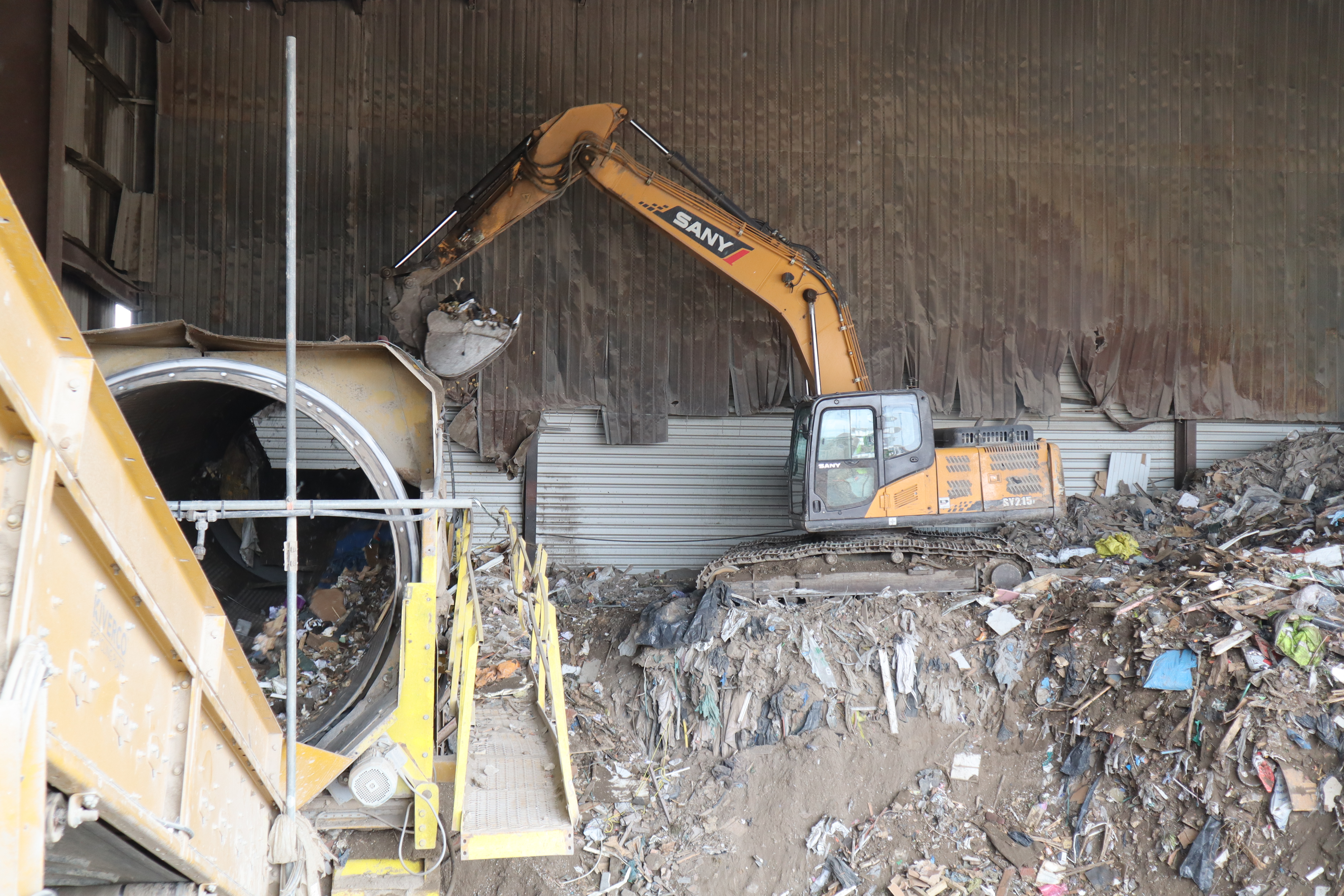 But having coped well re-handling the various waste types, including bricks, blocks and concrete from demolition works to general household and garden waste, Neil decided to invest in another sister unit. He later bought the original machine off the hirer and they are both still working today in his waste sorting shed.
Having clocked up over 10,000 hours and 6,000 hours respectively, the civil engineering spec machines continue to cope well with the dusty and harsh environment, as Neil comments: "To be honest I never expected the original machine to be able to cope. But what I didn't know at the start, was that the machines were designed to cope with hotter and therefore dustier weather conditions. So, what we normally do is blow out the radiators once or twice a day, depending on whether we are doing extended shifts. The operators also do regular daily checks of oil, water and coolant levels, working with the fitter that we have onsite to identify any maintenance requirements they come across."
"The main tasks given to the machines are to sort the waste for processing with one machine feeding selected waste up to another level in the shed, with the second machine used to load waste into a trommel. The machines also play an important part in sorting out heavy construction materials, tidying hardcore and muck bays. And on the odd occasion, when another unit is out for maintenance, or we are very busy with customers, their buckets are removed and grabs attached to help load customer waggons."
For SANY product and customer support specialist, Neil Tilley, the experience of working with White Skip Hire has been very positive. Neil: "Since the first hired unit came onsite, I have been supporting Neil and his team. Five years later and even though they look a bit scruffy, the bones of the machine are in good health. This is thanks to the way the operators and fitters have looked after them and the relationship we have built up with the business. Being standard machines, they have no reverse fan kits, or upgraded air filters. But being designed for hotter climates, they have high flow wide radiators fitted as standard and a rear-view camera, which is particularly useful in a yard environment.
"Also fitted as standard is automatic overheat protection, so if the temperature of the engine goes up to 98 degrees, it drops the throttle back down and therefore gives the operator a clear indication that the radiator is blocked. A good example of when this might happen on a shift at White's is if they are processing a lot of plasterboard, as the white dust is particularly good at clogging up filters in 3-4 hours. By dropping down the throttle the operators automatically know they have to blow the filters. 
"In the time the units have been onsite, they have been very reliable and probably the most significant thing we have replaced is the air conditioning unit in one of the cabs, which was covered at the time. What is also clear to me is the way the fitter has got to know the machine over time. The fact that they can now just call me for any parts they are not familiar with, means that my journeys to the site have been few and far between."
With many more hours left in the tank and plenty of work to do, Neil of White's concluded: "Once we have got our new yard set up and running, I will definitely be bringing in another Sany machine, as I can't fault them , to be honest."
Check out the full interview here: