SANY rules at GSL
When Clinton Hastie of Suffolk based Groundwork Solutions Ltd (GSL) rang an old friend to ask what excavator brand he would recommend he suggested SANY. That was just over a year ago, and today GSL has 10 SANY machines and planning to add more in the months to come.
Established in 2011, GSL is involved in a variety of projects ranging from affordable housing and other residential contracts to roads and drainage and is on course to double its turnover this year, such is the demand for its commercial and domestic groundworks services across Suffolk, Essex, Cambridgeshire, Hertfordshire and London, with a long list of clients that include Hill Partnership, Logan Homes, Marfleet & Blyth, Taylor Wimpey and Persimmon Homes.
"What's not to like about the SANY brand," says Clinton who began driving diggers at the age of 15. "Following through on my old friend's recommendation we took a long hard look at what SANY had to offer and were very impressed so we sat down with SANY dealers Global Machinery Solutions to discuss our requirements.
"Since then, we have replaced other brands in our fleet with a mix of 8 tonne, 15 tonne and 21 tonne SANY machines, the latest additions being a SANY SY215C and a SANY SY155U, and we are planning to add a couple more eight tonne SY80U compact diggers to cope with growing demand for our services."
Adds Clinton, whose son Ryan is Contracts Manager with the company, while son Liam is a Site Manager: "Originally an unknown brand to us, SANY offers everything we need on an excavator, including a lot of standard features that would have been extras on other brands that we would have had to pay for, in addition to exceptionally long warranties and excellent back-up and service."
That is supplied by Global Machinery Solutions, recognised as one of the largest dealers and suppliers of forestry, recycling, aggregate and confidential shredding machinery who were appointed in 2020 to be responsible for all sales and support of SANY excavators across Lincolnshire, Norfolk, Cambridgeshire, Northamptonshire, Bedfordshire, Suffolk and Essex.
The SANY excavators are very affordable – and very reliable," says Clinton. "The machines are compact and versatile, with zero tail swing, so they can access areas where others might have difficulty. The blades on the 15 tonners are an added bonus, especially when we are grading, on slopes or digging foundations, plus we are finding they are very fuel efficient.
"Our operators were sceptical in the beginning, especially one of our long serving men who has worked on many other brands, but he now tells us he is 'over the moon' with the SANY, and our other operators have been quickly won over, too."
They include Ricky Guy who works on the SANY SY215C. He has over 30 years' experience and recently completed 420 hours on the machine which he's done from new. "The machine has completed a lot of working hours in a short time, carrying out a variety of tasks, from heavy digging to fine grading, and has always performed very well. There were some small teething problems initially, but they were sorted out promptly by the dealer."
Powered by a water-cooled Cummins diesel engine with common rail technology and featuring a smooth Kawasaki hydraulic system, the 21 tonne SANY SY215C has a cab that provides an excellent working environment, with an individually adjustable, fully heated air-suspension seat from which all of the controls are within easy reach. The cab also has an integrated cooling box and a large amount of storage space for the operator's bits and pieces.
The flat design of the engine cover allows a view of the rear working area, while rear and side view cameras offer excellent all round visibility, with high resolution images from both cameras viewable on a 10-inch touch screen display. Good visibility, of course, is essential when working on busy sites like the one we visited at Newport in Essex to see the new SANY machines in action. That visibility is further enhanced by two LED roof working lights, two LED lights on the boom, one in the upper structure and an LED working light facing backwards. The high-quality LED lights not only stand out thanks to their particularly good illumination, but also due to their low power consumption and extreme durability, while also being virtually maintenance-free.
Thanks to easily accessible components, any maintenance and servicing can be carried out efficiently and safely on the SANY SY215C. Daily routine checks in particular can be carried out quickly, easily and safely by hand, with a lot of tasks, such as cleaning the air filter, possible from the ground.
We also spoke to Shahin Rama, who operates one of the 15 tonne SANY SY155U excavators. This powerful short-tail-swing machine with short overhang radius enables it to work in tight spaces, where conventional machines would not be suitable. It is powered by a Stage V ISUZU engine.
"It's smooth with plenty of power and it has a really comfortable cab," says Shahin, who has 14 years' experience working on diggers. Like the SANY SY215C, the driver's cab benefits from a fully adjustable air-suspension seat, ergonomic controls and a modern audio system, while automatic climate control means that the temperature and fresh air levels in the cab are always perfect.
The shape of the joystick ensures that it sits comfortably in the operator's hand and allows precise handling. The two auxiliary control circuits already come as part of the standard equipment and allow operation of various attachment devices such as tilt buckets or grapples. Both of these proportional control functions are operated smoothly via the sliders in the joysticks.
A monitor with a high-resolution display shows all important data at a glance. The menu navigation is extremely user-friendly and enables the driver to manage machine functions safely and comfortably. The camera image can also be shown on the display if required.
The engine bonnet is easy to open, which makes all components needed for regular checks and maintenance easily accessible. The filter, radiator and battery are arranged centrally and can therefore be accessed easily and quickly. Particularly long oil change intervals also help keep downtimes to a minimum.
Both the SANY SY215C and SANY SY155U excavators – as do all new SANY machines – come with industry leading five year warranties, giving owners and operators total peace of mind.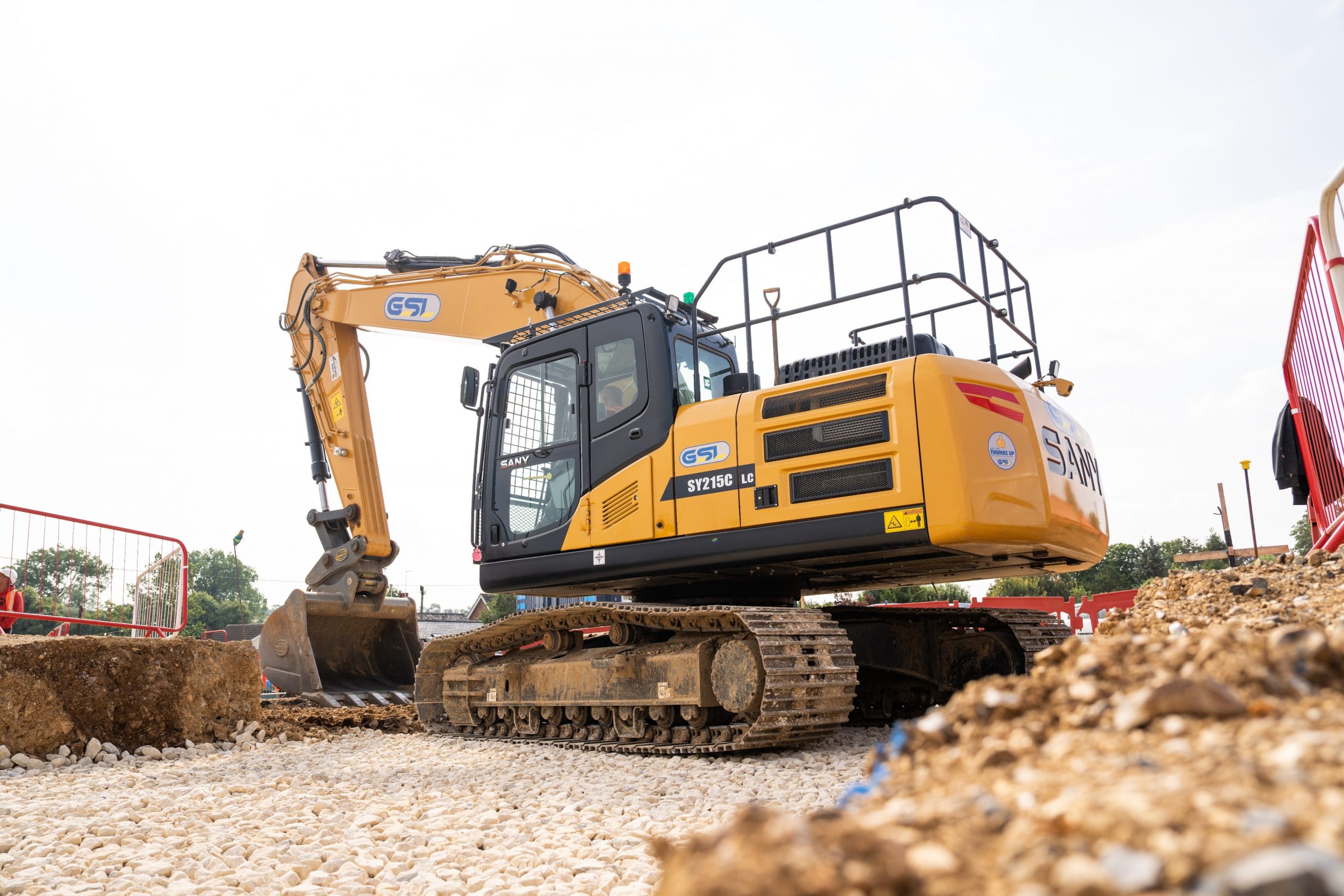 Thank you to Awesome Earthmovers magazine for the quotations used in this SANY in Action article and for providing the fantastic pictures.