SY155U steps up to the plate at KM Products
A key member of the team at KM Products in Laurencetown, Paul McMullen is a professional digger driver with thirty-five years' experience, but he'd never met a SANY before. That was until Kevin Murphy of KM Products bought a SANY SY155U from Sleator Plant.
Paul does all of KM Products' digging and excavating works and he is also contracted by other companies looking for an expert 'digger man', He's driven just about every excavator brand there is but never a SANY and he's really liking the experience. "Kevin is expanding his site considerably, and he decided to buy his own excavator as an investment and for ongoing work," says Paul. "The site to be excavated was 18 metres by 35 metres, so we wanted a compact machine but one that could handle any job. We both went to Sleator Plant in Mallusk to try out the SANY SY155U. We liked it, Kevin bought it and I've been working away with it since it arrived about six weeks ago."
"It's a real tidy, compact machine but, at 16 tonnes, it punches plenty of power, thanks to the Stage V ISUZU engine. The zero tail-swing really improves its ability to work in smaller spaces and load-sensing hydraulics means you've always got the power you need, while at the same time increasing fuel efficiency. Its capabilities are unbelievable for its size and it's capable of doing the same work as a 210. It's as good a digger as I've ever driven; it can handle heavy work, it can get into tight space, it's good on sloping ground and it is very economical to run. It's also relatively quiet, which is a bonus. So far, I've clocked 130 hours on it and there have been no issues or glitches at all, the SY155U just keeps on getting on with the job."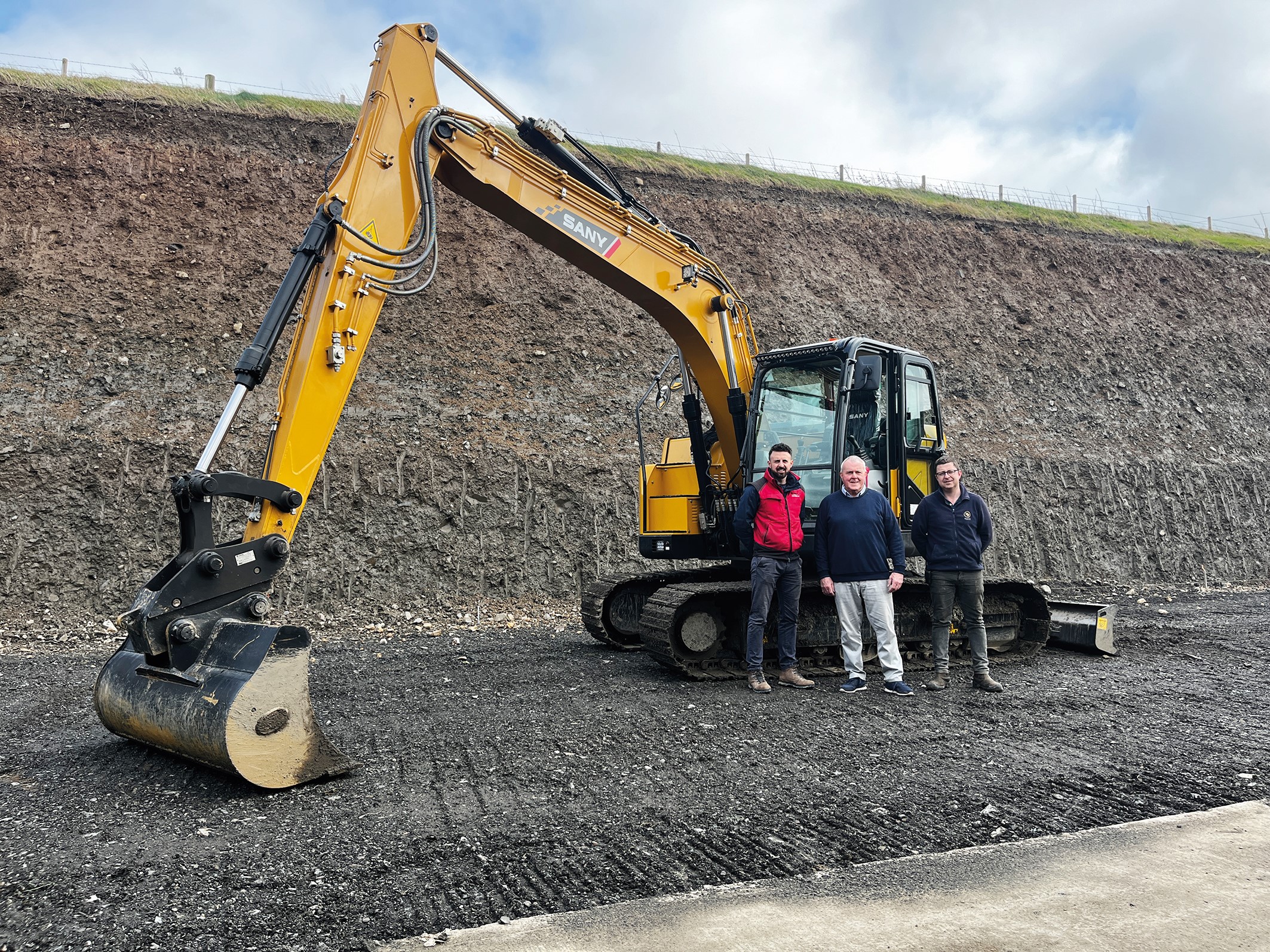 What about life inside the cab?
"It's very comfortable," says Paul. "It's got everything you'd want and then some. There's a great view from the cab and a rearview camera, so I feel confident I can see everything going on.The seat's air suspension makes it very comfortable and it can be heated for working in colder weather. The screen and instrument panel are very easy to read and there are LED work lights which make it easy to work on as the daylight is fading. "There's plenty of storage space inside and the sound system is excellent, which is a bonus for me as I'm driving it from 7am to 9pm on Saturdays and Sundays. Even taking all your breaks, that's a long day in the cab but the design and finish are very comfortable, even on long shifts."
The business case for the SANY SY155U
Kevin Murphy established KM Fuels in 2010, originally as a fuel, oil and gas distributor, but the business has expanded considerably into timber, aggregates and building supplies. Already KM Products can service any construction or DIY project from stock, however, the range and stock holding capacity will increase significantly with the new space currently being created with the SANY machine. "This was my first excavator purchase, so I didn't have any set ideas about which brand I wanted, I was more interested in getting the right size of machine with the capability to do anything I might want it for, "says Kevin.
"I wanted the excavator to be able to work in tight conditions, so the zero tail-swing was a key requirement to enhance manoeuvrability in smaller spaces to minimise disruption to other business operations on the site. I wanted an excavator that was capable of doing any job I might have for it, which was where Paul came in. He's been a professional digger driver for 35 years, he's driven many different makes and models and he knows his job. Having Paul with me at Sleator Plant gave me the expert advice I needed to make the right purchase.
"I've been very happy with the SANY SY155U, it is doing the job I want it for. It is a compact machine but capable of heavy work, even in small spaces and on slopes and Paul is very pleased with it, which means he enjoys working the machine and is happy to give the job concentrated time."
Sleator Plant stocks several leading brands, so why SANY? "We had looked up the SANY SY155 and Paul and I liked the combination of a smaller machine but with plenty of power," says Kevin. "That said, we went with an open mind and were convinced by Paul's demo of the machine, the detailed knowledge the Sleator Plant staff have of the products and their ability to answer all our questions.
"As an excavator, the SANY SY155U ticked all the right boxes, in terms of power, performance, fuel efficiency and user comfort. The warranty, the aftersales service promise and ultimately closing a good deal on the investment also made Sleator Plant a great company to work with."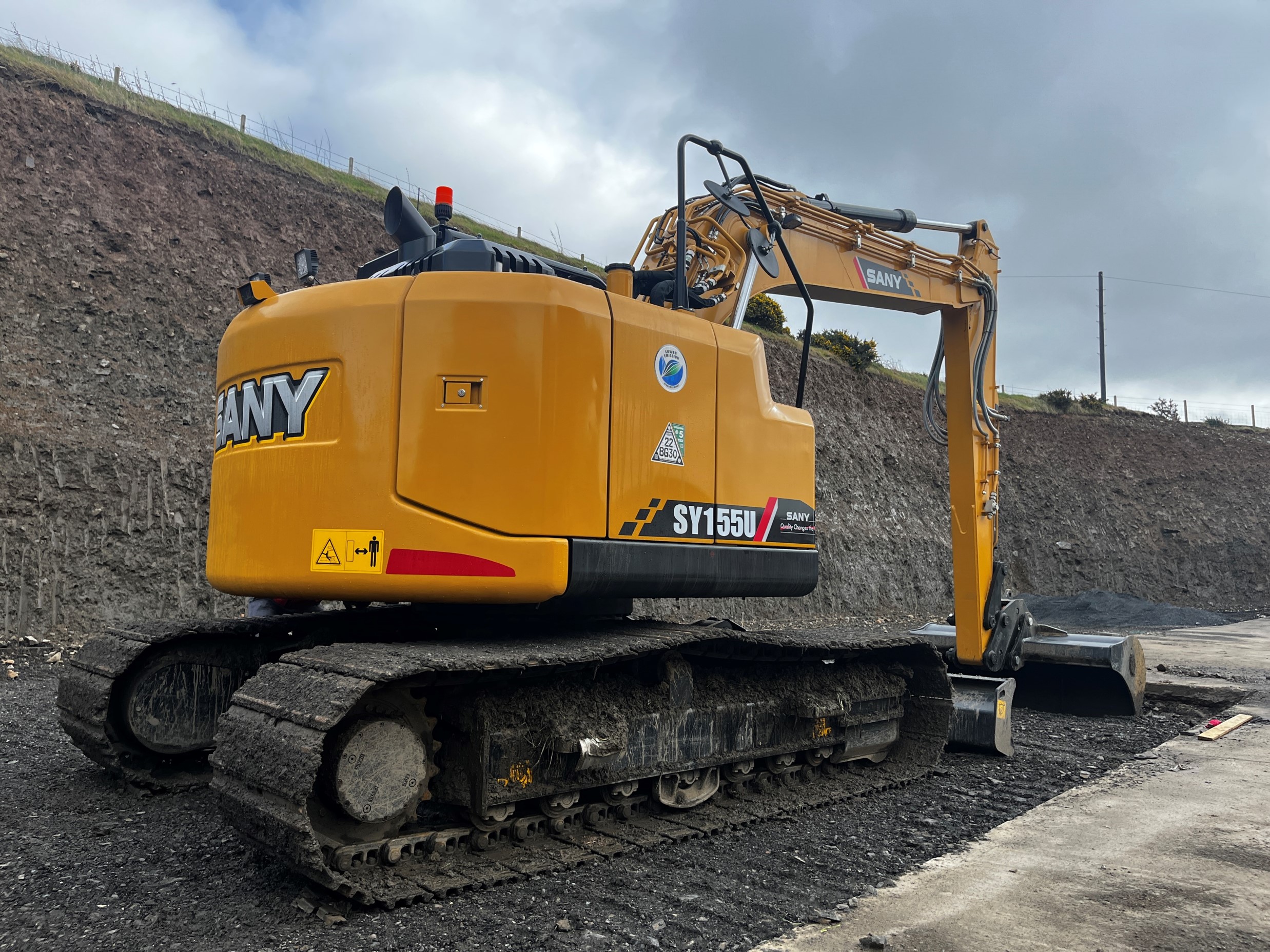 Thank you to Civil & Plant Engineering magazine for the quotations used in this SANY in Action article and for providing the fantastic pictures.