The 'Beast' & the sand pit
When H&S Contractors were awarded the job of extracting sand from the Nepicar Sand Quarry in Kent they knew they would need something a little bigger than they had available in their extensive fleet, and they had no hesitation in opting for a new SANY SY500H; at 50 tonnes, it is a beast of a machine that has been proving itself for the last couple of months.
It's a hard type of sand in the quarry and nothing less would have been up to the task of digging it out before it is loaded on to dump trucks to supply the construction industry in the North and West Kent & SE London areas.
Supplied by SANY dealers MC Plant, it is the first SANY excavator in the H&S fleet which includes dumpers, bulldozers, loading shovels, excavators, crushers and screeners and it has been making quite an impression, not least on the operator who is more used to driving Volvos and Cats. So, why SANY? Well, there are a number of factors that the company took into consideration.
"We've had a long and successful relationship with the MC Group who've supplied us with heavy trucks and other equipment over the years, so naturally they were our first port of call when we needed a 50 tonne excavator for this particular contract, it would have been a struggle to carry out this long term contract at the sand quarry with anything less, so the SANY SY500H fitted the bill perfectly," says H&S Contractors Managing Director Neil Pallet.
Based in Kent and established in 1972, H & S Contractors' customer base encompasses a cross section of businesses in the construction industry, providing self drive plant hire and haulage services that include site reclamation, site clearance, quarrying, landfill, golf course construction, landscaping, and extraction of all types of materials such as clays, chalks, sands, ashes, glass and compost. The company has also worked for many years for some of the industry's largest producers of aggregates, offering a complete crushing and screening service, so it is clear the SANY SY500H has gone to a good home, and will never be out of work.
"We work it very hard every day of the week and it is doing everything we ask of it. It is also very efficient on fuel, which we welcome in these days of rising costs."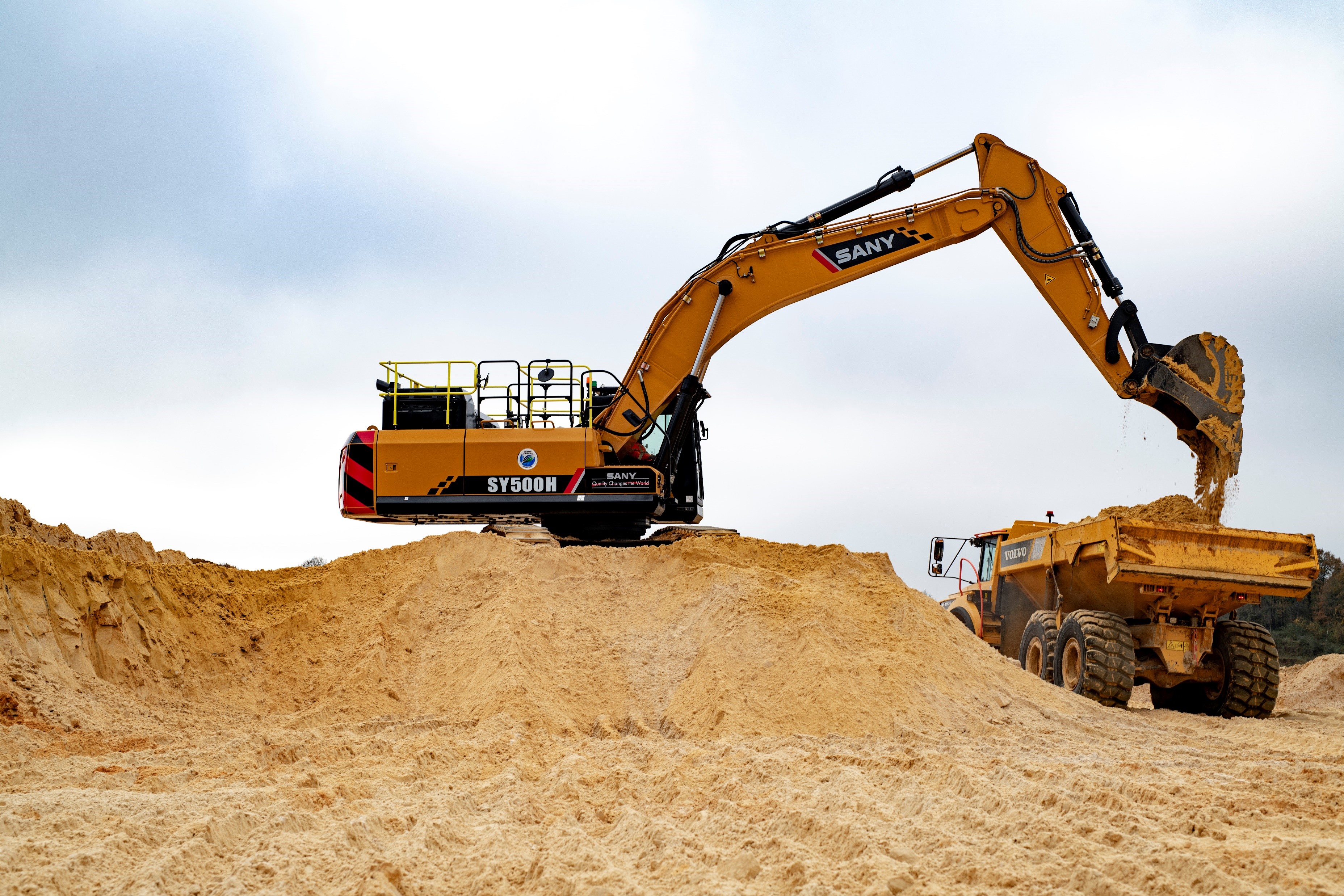 "A robust and reliable machine, it is doing everything we ask of it," says Neil. "We work it very hard every day of the week and it is doing everything we ask of it – and it is also very efficient on fuel, which we welcome in these days of rising costs."
He adds: "We got a really good package from the MC Group; the price was attractive, it came with a fantastic five year warranty and their service department is conveniently close by, so it all just made perfect sense, and we haven't looked back."
While it came with a few extras such as a boxing ring, factory fitted cab guard and a camera system, the standard high spec of the SANY SY500H crawler excavator has made quite an impression on operator Gary Hull, who has been driving excavators for over 50 years, the last 10 with H&S Contractors.
"Compared to my former machine, which was a different brand, this new SANY has so much more power, and the cab is a lot more spacious and comfortable, with easily accessible controls, making for an ideal working environment." says Gary who recalls his very first experience on a work site all those years ago was in a tracked Marshall dozer. "This new SANY is a pleasure to operate and is up there with the very best."
Responsive joysticks give Gary total control over boom, bucket and stick, allowing for precision work, while the large, easy-to-read display shows all of the key parameters clearly at a glance. As he mentioned, the lay-out of the easy to reach controls has clearly been designed for simple no hassle operation.
Working in the depths of winter isn't a problem, either, for Gary, thanks to a powerful heating and automatic air- conditioning system that guarantee an ideal climate. Also provided, as standard, are a radio, speaker, USB port and a 12 V jack, plus an integrated cooling box and plenty of storage space for his bits and pieces.
In addition to the extensively glazed driver's cab that, incidentally, also covers the roof,  the standard rear and side view cameras offers the operator excellent visibility on all sides, eliminating any blind spots, while safety is further enhanced by the provision of a travel alarm, and green seat belt and rotating warning beacons to increase visibility and attract attention. The machine is also fitted with LED work lights, ideal for working in low light conditions as experienced over the winter months.
A perfect balance between performance and fuel efficiency can easily be achieved with the pre-selectable work modes.
Powered by a large volume Stage V Cummins engine, the SANY SY500H also boasts a heavy-duty undercarriage and solid boom that provide a high level of stability, especially on uneven terrain as in the sand pit, while a high-performance cooling system contributes to a clean and quiet operation. An optimal balance between performance and fuel efficiency can easily be achieved with the pre-selectable work modes, depending on the task in hand.
As we said, the SANY has gone to a good home, for H & S Contractors look after their plant and machinery very meticulously, being able to regularly service and maintain their fleet in their own fully equipped workshops manned by a skilled team of fitters, and they can also offer a full maintenance repair service to their customers, undertaken either on site or in the workshops.
Servicing the 50 tonne SANY, itself, will not be a problem; its powerful engine is easily accessible, positioned under the large engine bonnet on the superstructure, which means all engine parts required for service and maintenance can be accessed quickly and safely. All other components that must be regularly checked and serviced are easily accessible, too, via large maintenance covers – and there are well positioned handrails and anti-slip tread surfaces to allow safe access to the maintenance platform.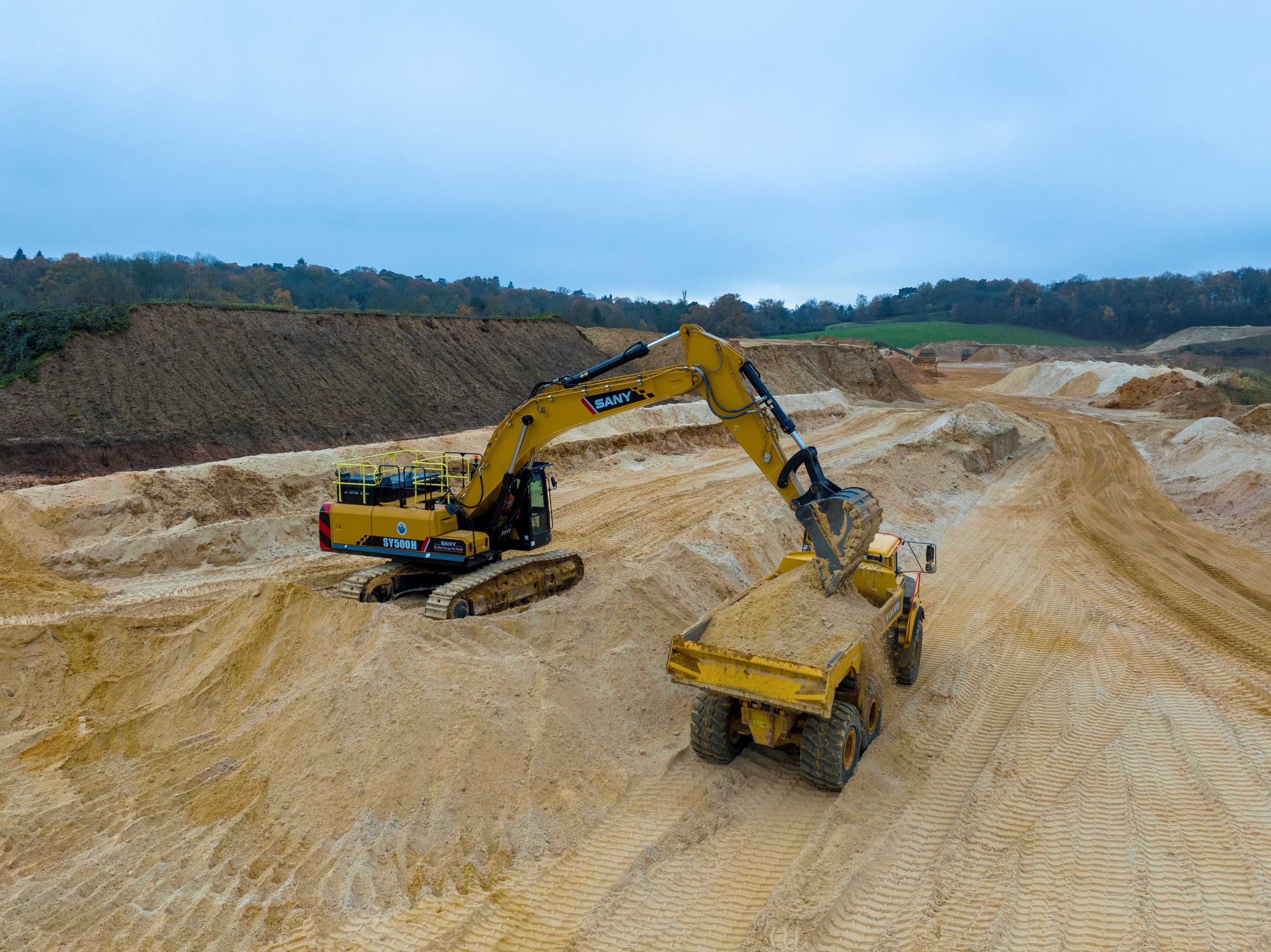 Thank you to Awesome Earthmovers magazine for the quotations used in this SANY in Action article and for providing the fantastic pictures.