SANY SY500H makes a big impact at Hall Construction Services
When digger operator Alan Mayman was told he was getting a new excavator, he didn't know what to expect when he arrived on site that morning, and when he discovered it was a SANY SY500H, he still didn't know what to make of it as he was not in the least familiar with the brand.
But as he has told Awesome Earthmovers, he has been thoroughly impressed by its performance, by its power and by its build quality. "It's a nice smooth machine, with plenty of power, has a great comfortable cab that is well insulated to keep out the noise, all the controls are well positioned and easy to use. It certainly matches the best I have ever driven in my lifelong career in the construction industry."
Alan is employed by Hall Construction Services Ltd which was established in 1986 by brothers Stephen and Neville Hall. The company, whilst working on projects throughout the UK, has maintained its roots by continuing to have its Head Office based in County Durham in the North East of England.
The family run business, which also fully owns and operates several subsidiary companies, undertakes a wide range of construction and civil engineering projects including reclamation and remediation of brownfield sites, earthworks, coastal and river edge protection, infrastructure, road construction, and mineral extraction and processing.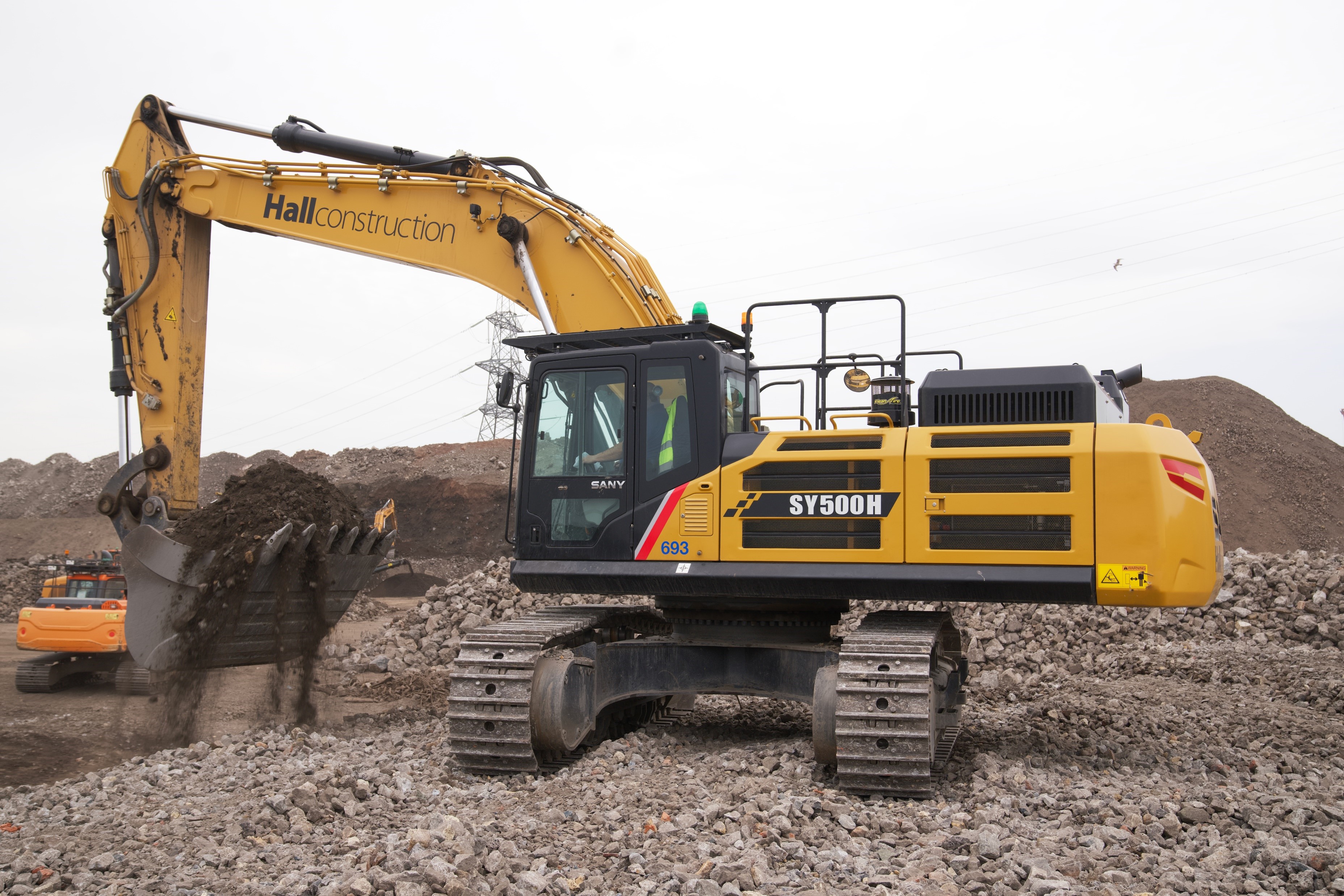 With an operating weight of 53 tonne, the new SANY SY500H is certainly earning its keep, where among other projects it is being utilised on soil remediation and enabling works for a state-of-the-art,1 km South Bank Quay for which Northern Ireland headquartered GRAHAM has been contracted to construct. 
"This is the very first SANY excavator to join our 200 plus fleet of plant and machinery and it is proving to be every bit as reliable as anything else we have," says company director Robert Hall. "In fact, it is a fantastic piece of kit, living up to our high expectations."
So, with a broad mix of machines including Volvos, Cats, Doosans, Komatsus and Kobelcos in the Hall Construction fleet, what initially attracted them to the SANY SY500H?  Says Robert: "Not only is the build quality excellent, it was also competitively priced, but probably the biggest factor was the service and support provided by the dealer, Banner Equipment."
Backed by an attractive 5-year/5000 hour warranty as standard and powered by a Stage V Cummins engine, with a smart hydraulic control system to maximise on fuel economy, the SANY SY500H features an extensively glazed driver's cab, while the standard rear and side view camera guarantees excellent visibility on all sides with no blind spots, vital when working on busy sites like that at Teesworks.
With a heavy-duty undercarriage and solid boom to provide excellent stability on all types of terrain, other features, include a comfortable, heated, air-suspension driver's seat with high backrest that provides lumbar support and the easily accessible controls. The joystick control allows for precise work in any situation and the large, easy-to-read display shows all of the key parameters clearly at a glance, while a powerful heating and the automatic air-conditioning system guarantees a comfortable working environment no matter what the weather.
Also provided on-board as standard are a radio and 12 V jack, and plenty of stowage space, including an integrated cooling box, and a host of safety features that include a travel alarm, green seat belt and rotating warning beacon and LED work lights for maximum visibility in low light conditions.
Service and maintenance are essential for maintaining performance and productivity, of course, so the easier and less time consuming the better. Because the engine of the SY500H is positioned under the large engine bonnet on the superstructure, it is readily accessible which means all engine parts required for maintenance can be accessed quickly and safely. All other components that must be regularly checked and serviced are also easily accessible via large maintenance covers.
We'll give the last word to Alan: "I've been in the industry for 30 years and this new SANY is up there with all the other leading brands I've operated," he says. "It has certainly opened my eyes to the SANY name."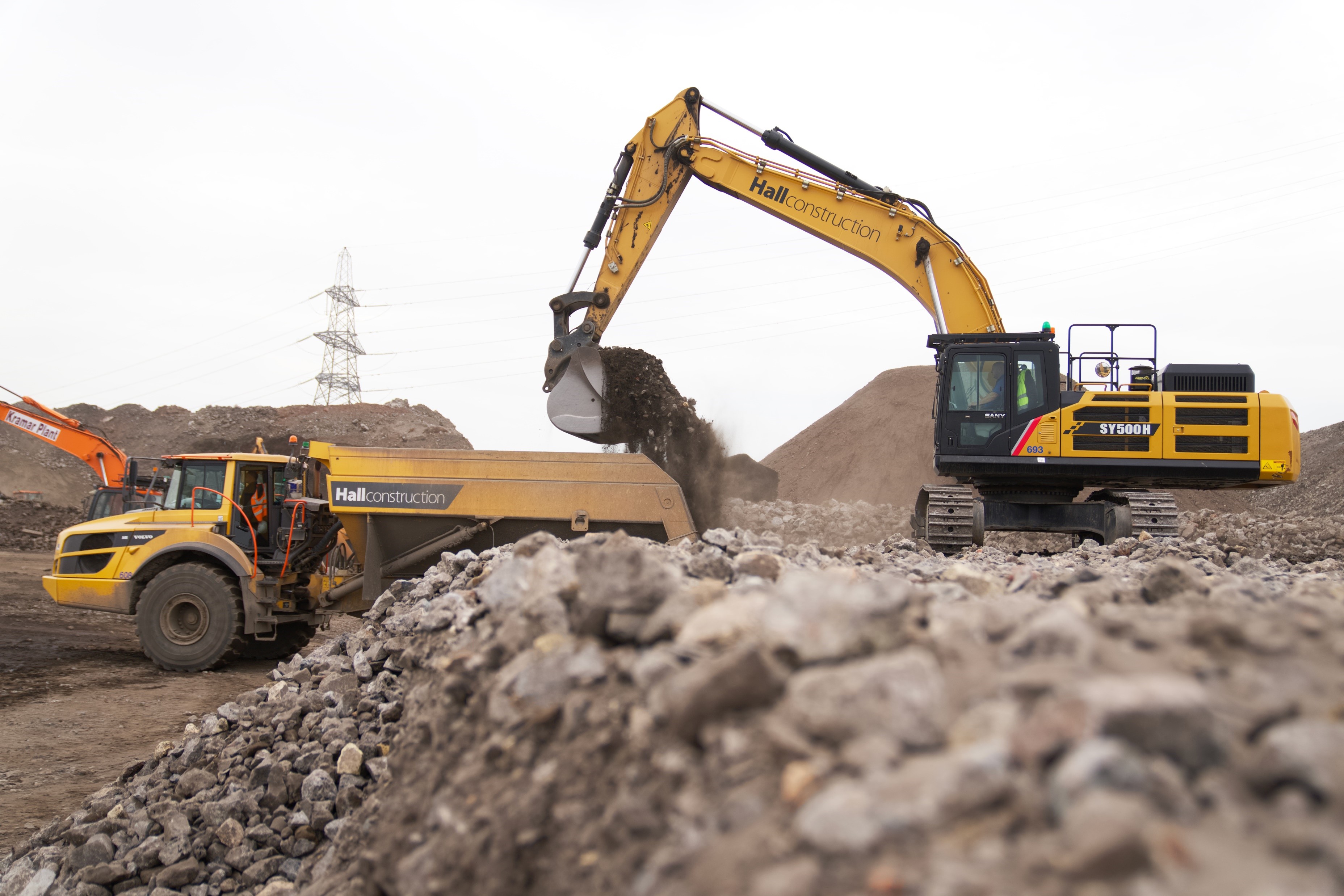 Thank you to Awesome Earthmovers magazine for the quotations used in this SANY in Action article and for providing the fantastic pictures.