The new SANY SY215C impresses at Midlands Landfill
It was B&B Tractors who was one of the first SANY dealers to put out the upgraded SY215C Stage V engine excavator to a UK Customer.
The excavator has been delivered to local recycling contractor Midlands Landfill who has replaced an 18-tonne machine with the SANY. Primarily used to load a mobile crusher or screener, the smaller SANY has been reported to be nimbler and more capable whilst delivering lower fuel consumption and increased cab comforts over its predecessor.
"We took a Stage VI machine in demonstration for a short period of time." Explains quarry Foreman Lee Jacks; "We knew the productivity gains were there for us in using the larger machine, but what has really surprised us was the difference in fuel consumption. We were having to work our old machine flat out to keep up with the plant most days. This is something we don't have to do with the SANY though."
Power to the Stage V machine comes in the shape of a compact six-cylinder QSB 6.7 engine from Cummins. Delivering 129kW, the machine delivers its power through a Kawasaki hydraulic system which Lee says gives a very smooth and precise feel for the operator.
The SANY is operated by the whole team at the recycling centre and has come in for little criticism since its arrival with the three operators all enjoying the comfortable and quiet cab. The Cummins engine and emissions package is a compact instalment and leaves ample room in the upper structure for the pumps, cooling packs and other mechanical and electrical installations.
"The nature of what we use the excavator for involves us stretching at full reach to fill the hopper on the crusher." Lee states "Our old machine would sometimes catch us out and tip forward if we had too big a bucket full. The SANY on the other hand doesn't. It always stays firmly on the ground and gives us a little more confidence in loading the crusher or screener for more efficiently."
Aesthetically, SANY has introduced a sleeker counterweight now embossed with their logo along with the new upper structure side panelling. As standard, the large SANY machines come with hi-viz handrailing from Cabcare, additional hydraulic lines for demolition attachments, LED lighting package and a choice of quick hitch making the standard specification higher than many on the market.
"We've been very happy with the new machine" Lee confirms. "It's not missed a beat since it arrived".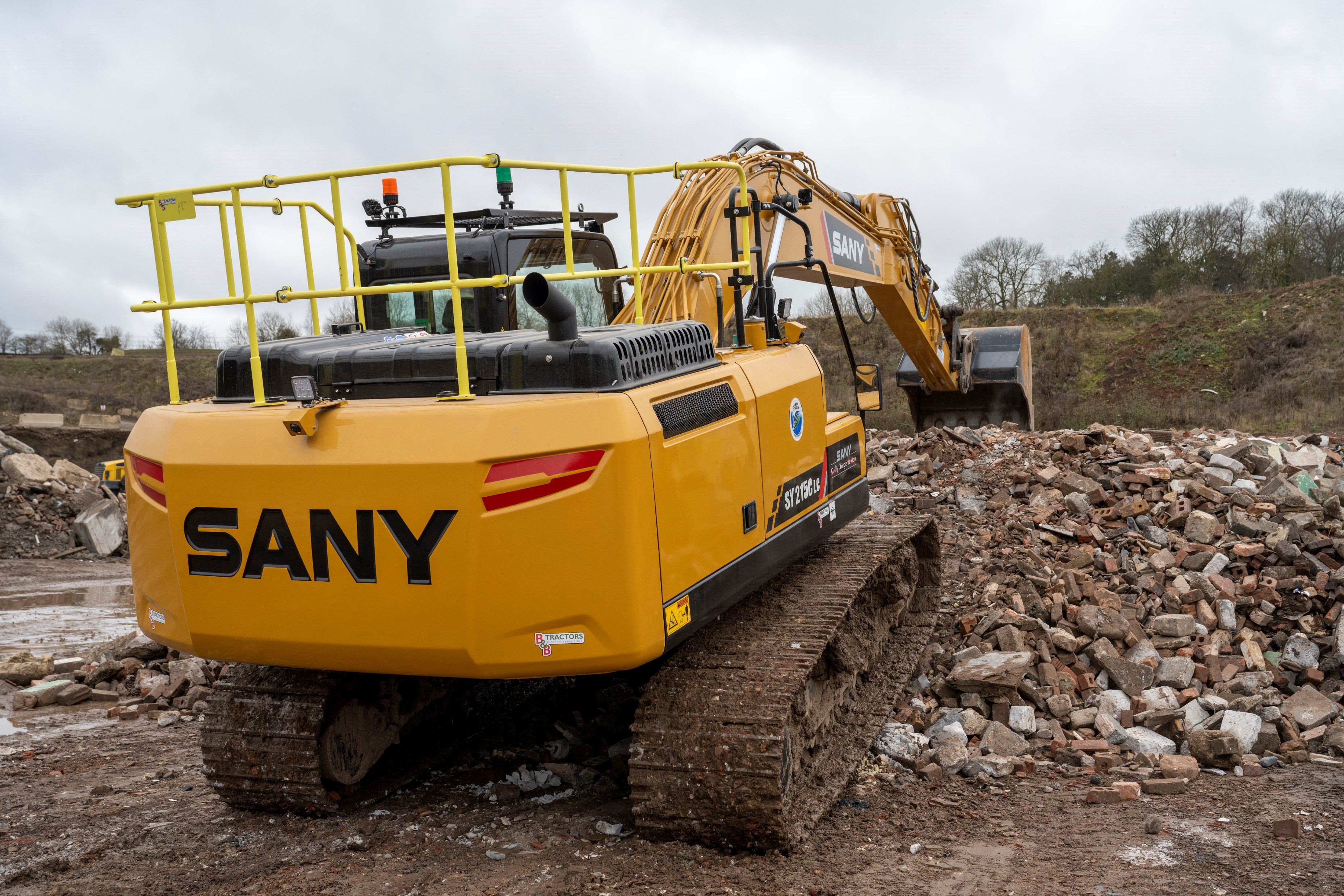 Thank you to Awesome Earthmovers magazine for the quotations used in this SANY in Action article and for providing the fantastic pictures.